Indoor Air Specialists, LLC
---
Anything that is in your air ducts is all through your home or business.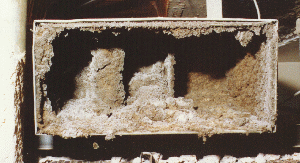 Your HVAC system heats and cools your building. It distributes fresh air or anything else that is in your system.
These pictures help you easily see where regular maintenance of your air system can make a big difference in your health and in the efficiency of your system.
What you can't see can hurt you.

To control costs, our investigation approach includes two phases.
Phase I includes an investigation of environmental conditions and complaints. This includes basic testing with instantaneous measuring devices, an inspection of the ventilation system, and a written report of our findings and recommendations.
Phase II if phase I proves inconclusive, phase II provides further HVAC evaluation with additional testing for chemical and micro-organisms. We will also include a cost proposal for complete HVAC cleaning and decontamination.
Many pollutants such as copier machine liquids, carbonless paper, paint, rugs, and cleaning solvents contribute to poor "Indoor Air Quality" (IAQ), "Sick Building Syndrome" (SBS), and "Building- Related Illness" (BRI). In addition poor IAQ, SBS and BRI are caused by contaminated heating, ventilation, and air conditioning systems (HVAC).
Radon Testing -
The EPA Recommends the following;
Test your home for radon — it's easy and inexpensive.
Fix your home if your radon level is 4 picocuries per liter, or pCi/L, or higher.
Radon levels less than 4 pCi/L still pose a risk, and in many cases may be reduced.
EPA estimates
that radon
causes
thousands
of cancer
deaths in
the U.S.
each year.

* Radon is estimated to cause about 21,000

lung cancer deaths

per year, according to

EPA's 2003 Assessment of Risks from Radon in Homes (EPA 402-R-03-003)

. The numbers of deaths from other causes are taken from the Centers for Disease Control and Prevention's 2005-2006 National Center for

Injury Prevention and Control Report

and 2006

National Safety Council Reports

.
IAS, LLC has
Department of Environmental Protection
certified "Radon Measurement Technicians" available to perform Radon Testing in your home or office. Analysis is conducted at a NJ/PA State certified laboratory ( Radiation Data) for accurate results. Please contact us if you would like to arrange for testing
Dryer Vent Cleaning
A clogged vent can cause a dryer to run significantly hotter and consequently increases the probability of a fire.